12 Inch Air Jordan Iron 3D Sneaker Clock
customers are viewing this product
Note: Buy 1 $15 shippinhg,Buy 2 get free shipping.
Upgraded AJ wall clock
Exclusive iron dial + high quality D316 movement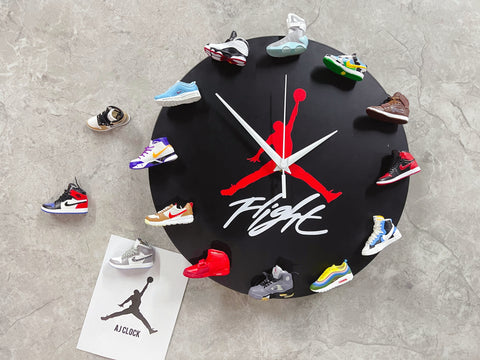 Product Description:

Material: Metal (body) & PVC (shoes)
Size: 12 inches/30cm(Diameter)
Clock Mechanism:D316 movement
3D shoes from AJ Shoes are included
24 magnet, 12 for the base, 12 for the mini sneakers(As shown in the picture)

Battery Type: AA (Not included)

Exquisite gift box packaging
[Metal Dial]:Steel dial, made of cut steel, baking paint plating process, with high mini AJ, stylish and durable.
[

D316 movement

]:
Not limited by batteries, both alkaline and rechargeable batteries can be used.
Longer battery life.
Silent movement, no ticking at all, perfect for bedrooms and studies.
[Easy to Hang]:The clock has a metal keyhole hanger on the back of the frame for easy and secure hanging on the wall.
[Best Sneakerhead Holiday Gift]:This wall clock is sure to be a hit with Jordan lovers. And this wall clock is super sized for bedrooms, living rooms, offices, kitchens, and other places. It is ideal for a housewarming gift, holiday gift or other special occasion.
In our passions, we not only love everything about sneakerhead culture, but also how we can apply them to different tastes and crafts of our creative aims. One of our most beloved collections started with our mini sneakers craft collection.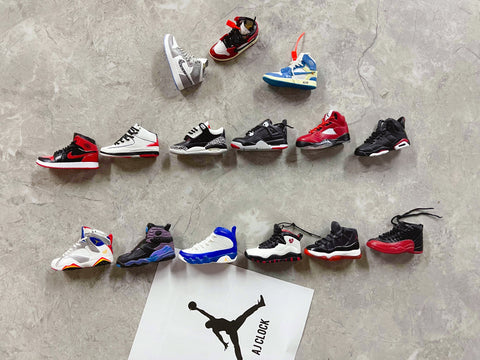 Based on the previous wall clock, our team has upgraded the dial and movement of the wall clock. More beautiful and durable.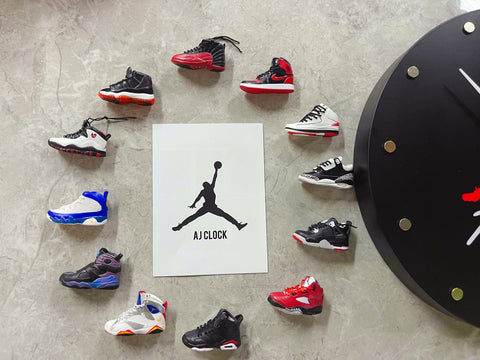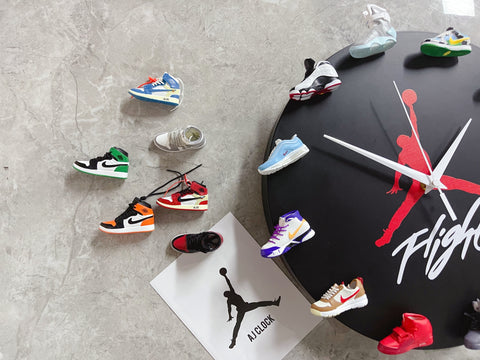 Tip: We support multiple payment methods
In addition to PayPal payment, you can also choose other payment methods through the following